GOTHNEWS
Nuove Uscite (10/11/17)
THE CASCADES
Indietro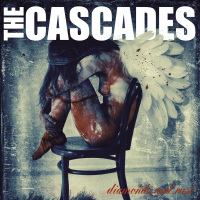 Dopo la parabola discendente culminata negli ultimi due album "Dead Of Dawn" -dalla produzione quantomeno scadente- e "Something to Happen" -con il nuovo singer Ben Richter ben lontano dai fasti targati Vermilion Fields-, i THE CASCADES di Maxe "Morientes" Raith hanno avuto un lungo periodo di silenzio. Le speranze si riaccesero tre anni fa con l'annuncio dell'imminente album di inediti "Return From The Pit" in cui la potente voce di Gregor Vom Rabenstein dettava i tempi … ma anche in questo caso le speranze ben presto andarono disilluse causa dipartita dello stesso Vom Rabenstein. Arrivando all'attualità, "Diamonds And Rust"(Echozone), anticipato dal singolo fluido "Wenn Der Regen Kommt", è il best-of del combo tedesco -ndr arricchito da molti inediti d'epoca- che vede il ritorno come frontman del figliol prodigo M.W.Wild. Come valutare questa compilation sapendo che un bel gruzzolo di nuove canzoni - ndr anche notevoli come "Return From The Pit" o "Set The World On Fire"- sono pronte nel cassetto? Negativamente se il contratto con Echozone non porterà a null'altro che ad una raccolta; positivamente, come già avvenuto per gli Still Patient? con Alice In…, se "Diamonds And Rust" fosse un ipotetico ponte tra il passato ed il futuro album di inediti. Out dal 10 Novembre.
TRACKLIST CD1: 01 Wenn Der Regen Kommt; 02 Phase 4 (Demo Version); 03 Handful Of Fear; 04 Mercury; 05 Babylon; 06 Page One; 07 Ultrasonic; 08 Hexeneinmaleins; 09 Sea Of Love; 10 Ground Zero; 11 Revolution Come; 12 Wie Auch Immer; 13 Engelland; 14 Everyday.
CD2: 01 Tapping Me (Demo Version); 02 Flowers In Ashes (Demo Version); 03 Underworld (Demo Version); 04 Eye Of Tomorrow; 05 Pop Song; 06 Fire Is Burning; 07 Justice For A While; 08 Down; 09 Private Salve; 10 Follow Me; 11 Why Should I Pray; 12 Time Train; 13 The Spider; 14 Standing Out In The Rain.