CONCERTI
Villa Festival (Neofolk e dintorni) a Magione (PG)
domenica 4 settembre 2011 @ Villa Aganoor Pompilj
Indietro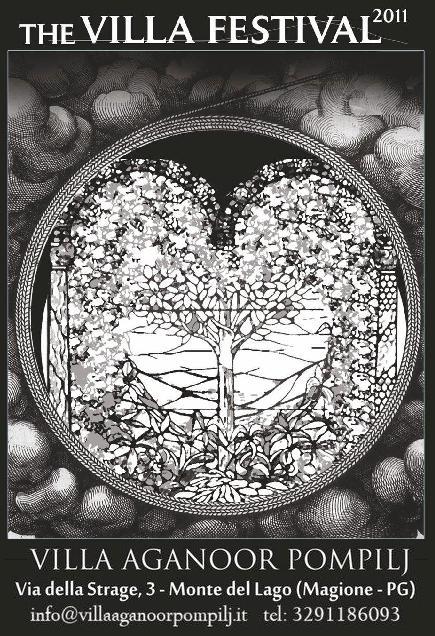 SABATO 3 e DOMENICA 4 SETTEMBRE
An annual festival whose aim is to invite artists who will compliment this very special venue, its location and unique history. Event non-profit, not-politics involved ..
Sat. 3 Sept. , evening, outdoor stage:
Hautville (Ita) at 9 pm
www.myspace.com/hautville
Seventh Harmonic (UK, Swe, Esp)
www.seventh-harmonic.com/
Sol Invictus (UK) at 11 pm
www.tonywakeford.com/
After midnight, indoor stage:
Sieben (UK)
www.matthowden.com/
Isthma EL ( Cold Wave Dj Sets from France)
www.myspace.com/154457145
From 6 pm we will talk about the last book of Antonello Cresti (Tsunami Ed.s). At 7 pm Marco Grosso will introduce the conceptual work of Invisible Eye Productions.From 8 pm free wine offered by Cellar Terre del Carpine!
Sunday 4 Sept., afternoon , indoor stage:
Lia Fail ( Ita) from 5 pm, their new album preview, coming soon in Autumn 2011!
www.myspace.com/liafailmusic
Knifeladder (UK)
www.myspace.com/knifeladdermusic
Andrew King (UK) with John Murphy and Hunter Barr
www.myspace.com/AndrewStewartKing
From 4 pm we will talk & discuss about "Industrial [r]Evolution" a book by G. Rossi (Tsunami Ed.s) and "Ctonia Magazine" ( very last issue )
After the gigs : an extended Dj Set (Neofolk /Industrial/EBM/Electro/80's by V.A.P. & Kikys) 'till you drop! Endriu Fall (Electronic Live Set)
Villa Aganoor Pompilj
Via della Strage 3, Monte del Lago ,
06063, Magione, Perugia, Italy
Tel. 329 11 86 093
info@villaaganoorpompilj.it
www.facebook.com/event.php?eid=170029536344515