CONCERTI
Der Blutharsch + Deutsch Nepal + Bain Wolfkind + Varunna a Settimo Milanese (mi)
sabato 17 marzo 2012 al Palazzo Granaio
Indietro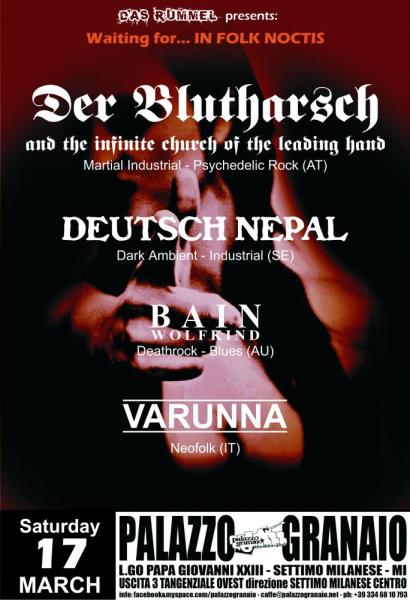 DAS RUMMEL present:

DER BLUTHARSCH And The Infinite Church Of The Leading Hand
(AT martial industrial / psychedelic rock)
https://www.facebook.com/pages/Der-Blutharsch-and-the-infinite-c......
http://www.myspace.com/derblutharsch

DEUTSCH NEPAL
(SE dark ambient / industrial)
https://www.facebook.com/pages/Deutsch-Nepal-Official/1148708619...
http://www.myspace.com/deutschnepal

BAIN WOLFKIND
(AU deathrock / blues )
https://www.facebook.com/pages/BAIN-WOLFKIND/121176804571218
http://www.myspace.com/bainwolfkind

VARUNNA
(IT neofolk)
http://www.myspace.com/varunna



Open Doors: 7.30 pm
Concerts: 8.15 pm


PREVENDITE / PRESALE TICKETS

Costo del biglietto in prevendita: Euro 22
Costo del biglietto alla cassa: Euro 20

Per coloro che acquistano in prevendita viene messa a disposizione la
navetta dalla fermata della metropolitana MOLINO DORINO fino al
locale.

METODI DI PAGAMENTO:

POSTEPAY intestata a:
Alessandra Silva Carinelli
Numero PostePay: 4023600602622989

PAYPAL: calidrha@hotmail.it

A pagamento effettuato siete pregati di spedire una mail a:
prevendite.dasrummel@gmail.com specificando la data, il metodo di
pagamento, il numero dei biglietti acquistati e i relativi nomi e
cognomi dei partecipanti.
Riceverete una mail da stampare e da presentare alla cassa (e sulla
navetta) insieme a un documento d'identità.

English version

Advance sale ticket: Euro 22
Ticket at the box: Euro 20

For those who buy the presale tickets, there will be a shuttle bus
service available from the underground stop MOLINO DORINO (Line n° 1 –
the Red Line) to the venue.

METHODS OF PAYMENT:

For PRESALE with PAYPAL: calidrha@hotmail.it

For PRESALE with Bank Account:
To pay with a bank account please send a mail to: das.rummel@gmail.com

To all those who purchase tickets in advance, either via paypal or via
postepay, we ask you to send an email to:
Prevendite.dasrummel@gmail.com

On which please specify the date and method of payment, the name of
the participant(s). (specify all names for multiple purchases). Print
the email and present it to the cashier in accompaniment to an
identity document.