CONCERTI
A SILENT NOISE and FM a Roma
venerd́ 13 Aprile 2012 @ Muzak Club
Indietro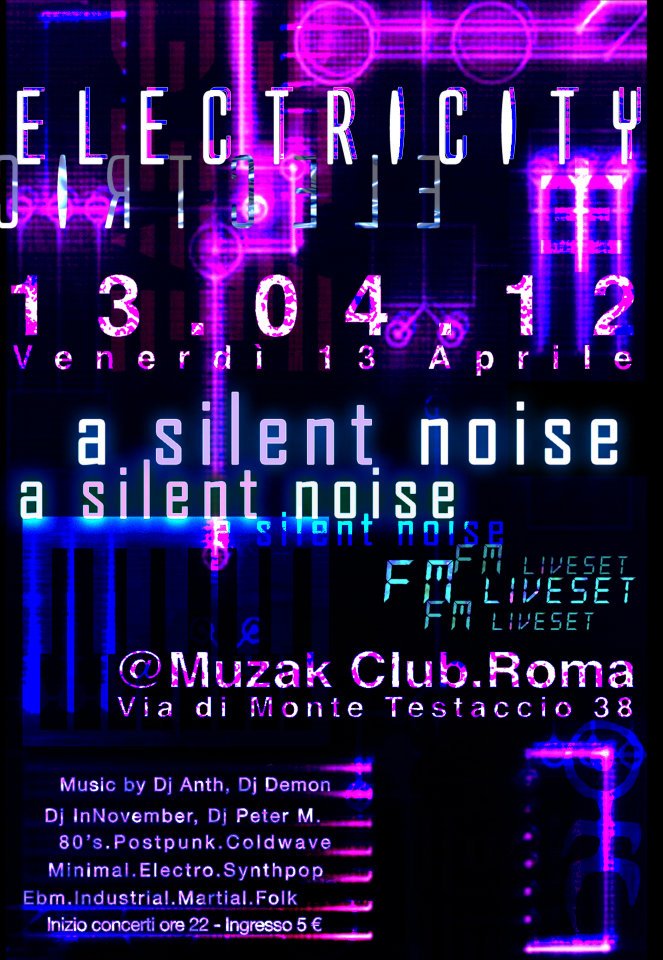 Venerd́ 13 Aprile :
A SILENT NOISE
(elettronica/new wave/psichedelica)
A Silent Noise is a musical project created by Libero Volpe .
It come to life in 2007 like a side project, inspired by kosmische and new-wave music, together with space literature and science fiction movies. Combining synthesizers with guitars and bass guitar, ASN creates visionary soundscapes, a dreaming way ahead to the future only with the music...without words.
Line up:
Libero Volpe (synths, voice)
Lorenzo Ceccarelli (bass guitar)
Alessio Schiavi (guitars feat. Avant-Garde)
Influences:
Tangerine Dream, Vangelis, Pink Floyd, The Cure, Jean Michel Jarre, Klaus Schulze, Dead Can Dance...
http://www.asilentnoise.net/
http://www.facebook.com/asilentnoisemusic

FM
(ambient/elettronica/IDM)
FM's electronic music project was born at the end of the 90's by Luciano Genovese. The name FM is a personal tribute to the important role of independent radios since their birth.
In this project all listening experiences of the past and of the future melt down together: from the new wave to the post-punk, from EBM at it's beginning to the industrial sound until new electronic musical forms such as IDM, ambient and glitch.
Line up:
Luciano FM Genovese (at the knobs controllers)

-------------------------------
Durante la serata:
Music by:
Dj Anth
Dj Demon
Dj InNovember
Dj Peter M.:
80's.Synthpop.Minimal.Darkwave
Postpunk.Industrial.Ebm.Folk
--------------------------------------------
Friday 13.04.12
Open Doors/Apertura locale ore 22
Ingresso 5 euro | enter 5 euro
---------------------------------------
@Muzak Club
Via di Monte Testaccio 38/a Roma
(In prossimità della Stazione Piramide, metro linea B)