CONCERTI
Destination Morgue VI festival a Roma day 2
sab 5 gennaio 2012 @ Closer
Indietro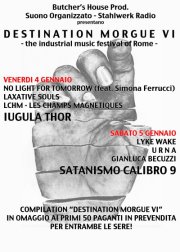 BUTCHER'S HOUSE PROD, SUONO ORGANIZZATO & STAHLWERK RADIO
present
- DESTINATION MORGUE VI
The Industrial Festival Of Rome
SIXTH EDITION OF THE INDUSTRIAL FESTIVAL OF ROME:
- FRIDAY 4TH JANUARY 2013
NO LIGHT FOR TOMORROW (feat. Simona Ferrucci from Winter Severity Index)
NL4T is the solo project of Alessandro Marchettini (already vocalist of "MALATO" and leader of the Butcher's House Prod., the industrial / noise music label of Rome). Since 2001, NL4T is the absolute negative reflex of his creator who can take form in different ways, from the most extreme power electronics violence to the deepest and obscure dark ambient atmospheres. In every way it sounds, NL4T will take you to the lowest and deepest corner of your conscience. NL4T's music has connections with the italian death industrial and power electronic styles similar to Atrax Morgue mixed with Throbbing Gristle.
For this edition of the Destination Morgue Festival, Simona Ferrucci (leader of the post punk / new wave band Winter Severity Index) will join the project.
https://www.facebook.com/pages/No-Light-For-Tomorrow-NL4T
LAXATIVE SOULS (LXSS)
Laxative Souls (also known as LXSS, only due to the front cover of the first two releases on cassette) is one of the first industrial power-electronics projects appeared at the beginning of 1980, in Italy second to M.B. only. He mainly worked with raw electronics, distorted vocals, concrete sounds, self assembled electronic circuits, and sample sources, such as news broadcasts, documentaries and recordings. 2 LPs and a certain amount of cassette tapes were released via his personal label Multiple Configuration, each of them being an exquisite art object, enriched by art inserts, photos, texts and strange items attached to the tape boxes and LP jackets.
http://www.discogs.com/artist/Laxative+Souls
LCHM - LES CHAMPS MAGNETIQUES
LCHM was born in 1998 out of a passion for audial research, the study of human psychology, and ispirations drawn from several esoteric practices. Deep and wide sounds, bright and obscure, unique and full of nuances.
LCHM conceives and records all of its material using sounds captured in nature, in unusual places, or created using other instruments.
Resonant Notes, Introspective Places, Peculiar Rooms, Environmental Conditioning, Wide Landscapes
This is the World of the Sound and Feelings of LCHM.
http://www.myspace.com/lchm
IUGULA THOR
Italian experimental power electronics project formed by Andrea Chiaravalli with the assistance of Paolo Bandera and Eraldo Bernocchi. Many of the early recordings were heavily influenced by thrash and speed metal. Since 1994 the project has primarily been just Andrea with the assistance of Paolo Bandera. Though inactive since 1999, there are plans for the project resurfacing in 2008.
Iugula-Thor has often been closely tied with Sigillum S, as Andrea Chiaravalli has often assisted that project in the studio and live, especially during the late 1980s and early 1990s.
https://www.facebook.com/iugulathorofficial

- SATURDAY 5H JANUARY 2012
LYKE WAKE
Historical experimental/ambient band from Rome by Stefano Di Serio, which was active in the late 80s and early 90s. The project is back to life in 2010.
http://www.discogs.com/artist/Lyke+Wake
URNA
URNA is Italian post-apocalyptic composer Gianluca Martucci. Using a wide variety of folk instruments, atmospheric recording environments and electronic manipulations, GM has truly stretched the microverse of URNA to reflect the vacuous psychedelia of an ancient mind casting spells in a modern world.
http://urna1998.blogspot.it/
GIANLUCA BECUZZI
Gianluca Becuzzi (born 1962, Piombino-Italy) is an electronic / electroacoustic composer and sound artist active since the first half of the 80's.
He released many albums and performed live around Europe during the last three decades under various names.
Since 1999, his artistic production is characterised by a strong experimental imprint, by the interest into the expressive possibilities offered by the technologies and by a clear aesthetic inclination towards abstract forms and micro / macro noises / sounds.
He deals with electronic / electroacoustic composition, sound art, audio installations, ambient post-scorings and sound design.
The relationships between art and science, between audio and visual-spatial forms, as well as between composition and self-generative processes represent the main themes in my sonological research.
Among the artistic productions of the latest years, in addiction to the experimental works under his own name, we have to mention also his solo works as Kinetix, the records in duet with Fabio Orsi, the electro-post-punk project Noise Trade Company and the harsh-power-noise productions as Greyhistory, plus several other collaborations with musicians, theatre companies and videoartists from the experimental area.
PROJECTS:
-LIMBO (1984-2001)
-SAINT LUKA (1988-1992)
-MATAFORM (1995-1996)
-KINETIX (1999-2010)
-GIANLUCA BECUZZI (2006-Today)
-GIANLUCA BECUZZI FABIO ORSI (2006-Today)
-NOISE TRADE COMPANY (2008-Today)
-GREY HISTORY (2010-Today)
https://www.facebook.com/gianluca.becuzzi
SATANISMO CALIBRO 9
Satanismo Calibro 9 is a random act of senseless violence.
It's about deep perversion and provincial life.
Fog and night, still and boring and wet summer, crowed places and lonely walks through nothing.
Satanismo Calibro 9 describes what happend when abyss open, when random ignorance takes the first and supreme place of honour and command, when sperm, blood, piss and shit became the main obsession.
We are here to paint your soul with the blackest desecration.
http://www.satanismocalibro9.org/
- SINGLE NIGHT: 10.00 EURO (+2.00)
- BOTH NIGHTS: 18.00 EURO (+2.00)
- PREORDER BOTH NIGHTS + COMPILATION "DESTINATION MORGUE VI": 15.00 EURO (+2.00 EURO AT THE DOOR ENTRANCE)!!!
attenzione! per chi e' di roma, la prevendita puo' essere fatta anche in contanti. per info contrattare alessandro marchettini darkyota@fastwebnet.it
pre orders will start around end of november, only paypal accepted!
darkyota@fastwebnet.it
https://www.facebook.com/events/349346108470436/
Closer (Roma)
Via Vacuna 98
Zona Tiburtina Metro-B Quintiliani
http://facebook.com/CloserLiveClub