GOTHNEWS
Nuove Uscite (17/09/16)
DIARY OF DREAMS
Indietro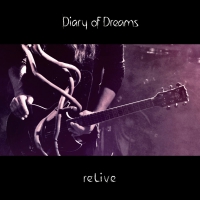 Dopo il cd "Alive" del 2005 e del DVD "Nine In Numbers" del 2006, "reLive"(Accession Records) č la terza registrazione dal vivo pubblicata dai DIARY OF DREAMS. L'uscita si diversifica dalle precedenti per la totale assenza di "aggiustamenti" in fase di post-produzione al fine di mantenere l'autentico e grezzo suono concertistico della band capitanata da Adrian Hates in un lungo doppio album. Out dal 16 Settembre.
TRACKLIST CD1: 01 Schwarz; 02 Sinferno; 03 Malum; 04 MenschFeind; 05 Psycho-Logic; 06 Krank; 07 Butterfly:Dance!; 08 Giftraum; 09 Soul Stripper; 10 Ikarus; 11Schuldig!
CD2: 01 Choir Hotel; 02 Mythology of Violence; 03 The Colors of Grey; 04 Dogs of War; 05Grau im Licht; 06 A dark embrace; 07 Endless nights; 08Undividable; 09 The Plague; 10 King of Nowhere; 11 Kindrom.